Many of Key West's original residences were built in the early 1900s and are now categorized as "Historic Homes." The rules and regulations to restoring and renovating historic homes can be tricky and time consuming at best. Barracuda Builders had the pleasure of restoring this Eliza Street residence back to its original beauty. This project was a full renovation and addition, as can be seen in the before and after images below.
This project began with the demolition of all interior finishes and non-load bearing walls. The house was taken down to the studs exposing antiquated construction techniques.
New wood lap siding, windows, and doors were installed. New concrete foundations were added along each corner to upgrade the structure to current Key West building codes. An entirely new floor plan was designed which included all new electric, plumbing, central air conditioning, spray foam insulation, drywall, wood flooring, and tile finishes. The interiors of this modern day Conch Cottage are an interior decorator's dream come true. The cool color palette reflects the easy living that Key West is best known for. Top of the line stainless steel appliances, custom built cabinets, and granite counter tops are perfect for quiet dinners at home or entertaining guests.
At a little over 1000 sq ft, our clients stressed the importance of making every inch count including the outdoor porch and pool area. It is very common in Key West and other areas which experience pleasant weather year round to make the most of their properties. An in-ground concrete pool is the outdoor centerpiece of this Eliza Street property. The pool with 3 waterfall features and stone facade provides the perfect ambiance for a day (or evening) spent relaxing on the back deck or in a hammock.
Do you have a restoration project or addition you would like to get started on? Contact us today!
Winner of the Historic Florida Keys Foundation 2016 Preservation Award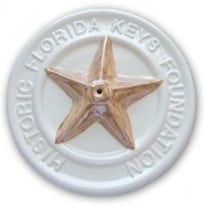 Photography: Blueye Images